Regular price
$50.00 USD
Sale price
$25.00 USD
Unit price
per
Last Minute - Sale end in
Calculating...
Limited Stock! 1217 people are viewing this and 3427 purchased it.
View full details
Description
360 ° ROTARY FAUCET SPRAYER HEAD, ANTI SPLASH FAUCET, BOOSTER SHOWER, WATER SAVING 
😱 AN INCREDIBLE FAUCET SPRAY HEAD FOR YOUR WASHING NEEDS! 😱
ORDER YOURS NOW!
High quality: The water saving faucet enhancer is made of high quality ABS and stainless steel, it is really durable and thick.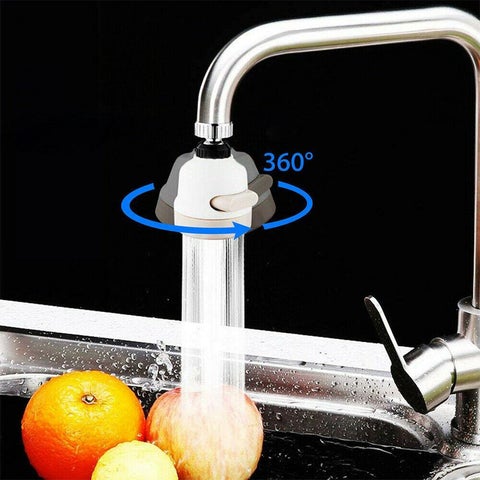 A NEW KITCHEN EXPERIENCE IS HERE!

The Kitchen Sink Can Be Frustrating If You Can't Control and Bend The Faucet To Will... But We FINALLY Found The Ultimate Solution To Your Kitchen Frustrations!

Move-it® - Moveable Kitchen Tap Head spins at All Angles and the Water Pressure is Adjustable ALL-IN-ONE! It's intuitive and very easy to install - no tools required.

This high-tech product will surely upgrade your kitchen experience as a whole. washing the dishes, your vegetables or your hands will never be the same! It's also perfect for your bathroom sink.
The Move-it® - Moveable Kitchen Tap Head has been rated as the number one must-have kitchen tool of 2018!


EASY ATTACH, EASY CLEAN
You can just attach it to the kitchen tap head, and you can rotate the faucet head to your liking!

It is also easy to clean unlike other tap heads.
It is made of non-toxic materials, so your household is 100% safe!


CONSERVES WATER
We know that a fast stream of water can waste a lot of water in the drain. Why pour out a huge jet of water when all you need are just sprinkles? In fact, you get to CHOOSE your desired stream style and pressure strength!

With the Move-it® - Moveable Kitchen Tap Head, all you need to do is open to your desired stream or flow, adjust the head and you are good to go.
You can save money from water bills and you can help our world by conserving water!

STURDY AND INNOVATIVE DESIGN
The Move-it® - Moveable Kitchen Tap Head has an innovative design that requires low maintenance yet efficient. The material that makes up this product is also durable, so that you can be sure that it will last for many years.
It has a 360-degree rotatable tap spout and a unique 3-mode function so that you can easily clean your sink and other items!


Shipping Policy
We stand by our product quality. If you are not pleased with your purchase, we offer a 7-day quality guarantee on all products. If you have any additional questions or would like to request return, refund, exchange, feel free to contact us at support@piloltd.com
Learn more about our return, refund, and exchange policies at support@piloltd.com.
Order processing & shipping time within 3-5 days, and delivery time within 14-21 business days from shipping date. During high volume periods, the processing time may take an additional 2-4 business days . Learn more about shipping FAQs at support@piloltd.com
On average, the shipping fee is $4.96 per unit. However, shipping fee may vary due to promotional activities. Please visit the checkout page to obtain your final shipping charges.